Semajon Carina ROM
SEMAJON CARINA ROM.
Australian Champion .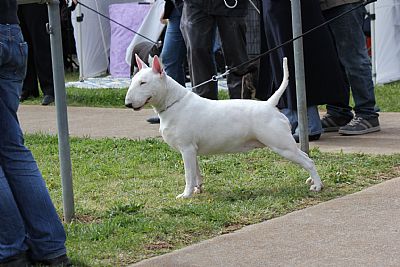 Runner up In Show 8.06.2012 Judge Chriss Mellor (UK)
Challenge Bitch and Puppy In Group Judge Moira Stewart (Qld)
Best In Show 8.7.2012 Judge Mary Remer Victorian Bull Terrier Club
Runner up In Show 30.09.12 Judge Heidi Holland A.C.T. Bull Terrier Club
Bitch challenge and Puppy in Show BTCWA Judge Dai Hall (UK)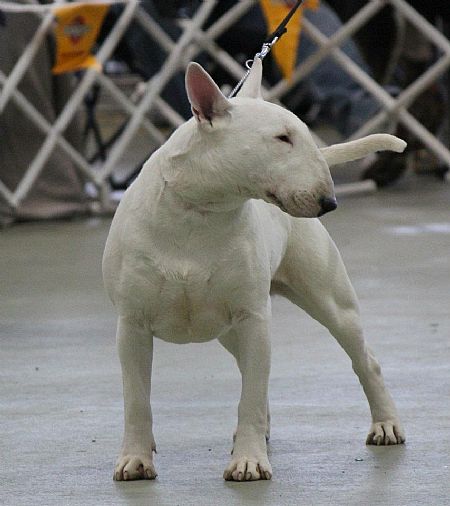 Judges Critques
Bull Terrier Club Of Victoria
#50 Semajon Carina All white youngster with a lovely square outline. Strong profile. Good fill. Good expression. Correct mouth. Positive reach to the neck. Most bone in her class that extends through the pasterns into tight feet. Well developed fore chest. Balanced and shapely through the body. Good spring to the rib. Hind quarters well set on. Short coupled. Shapely underline. Moved truly all ways.. So many virtues in this typey and quality package. She rode on them all the way to the top honors. BEST BITCH. BEST in SHOW.
ACT BTC Judge Heidi Holland
Class 4a
1st Semajon Carina (Jacamar Dream Time/Bullbrave Heaven Can Wait) - Challenge bitch, reserve of breed—Powerfully built, shapely white. Her head is well turned with roman finish, great depth of muzzle and underjaw. It is filled right up and has width of muzzle. She has good pigmentation, a wicked expression and dark eyes. Correct mouth. Nicely balanced with good angulation both front and rear. She has length of neck, the shortest of backs and a level topline. Straight front, compact feet, forechest with width and depth of chest. Her underline is correct and she is short coupled with good muscling and condition. Could do with shorter hocks. Moves very well all around, only marred by a high tail carriage on the move. A top class bitch. Bitch Challenge and Runner Up Best In Show
It is with a heavy heart that i write this today Carina passed away. she fought a hard fight with Lymphoma and is now at peace at the Rainbow Bridge. Sleep well my beautiful girl you will never be forgtotten and remembered by true people who appreciated your beauty and elegance and you live on in your kids. I will miss you .