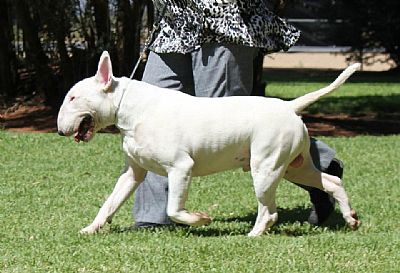 Jacamar Dream Time ROM
Best Exhibit In Show NSW Bull Terrier Show. Judge Nicco Du Preez.(RSA) 08.04.2012
Best Exhibit In Show QLD Bull Terrier Show. Judge Ms Yvette Caprino (NLD) 09.06.2012
Best in Show Bull Terrier Club of Vic Judge Josef Shnider(GERMANY)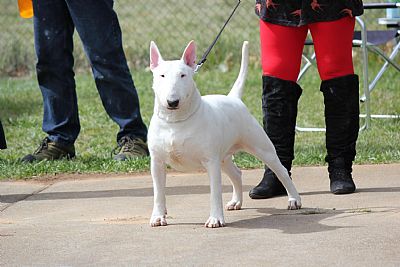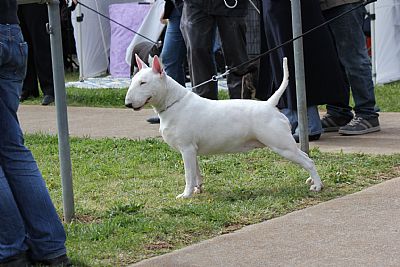 Semajon Carina ROM
Runner Up In Show Qld Bull Terrier Show Judge Mr Chris Mellor (UK) 08.06.2012
Best Exhibit In Show Bull terrier Club of Vic Judge Mary Remer (USA)
Runner Up In Show,Challenge Bitch and Best Junior A.C.T. Bull Terrier Club 30.09.12 Judge Heidi Holland (NZ)
Challenge Bitch and Junior in Show WA Bull Terrier Club Nov 2012 judge Dai Hall (Wales)

What a year so far Jacamar Dream Time two best in show and 2 reserve challenges at specilty shows and finishing his ROM. And his daughter Semajon Carina" Rom" at 9 months of age and following in her fathers footsteps winning:
Best In Show in Melb at the Bull Terrier Club of Victoria under Mary Remer (USA)
Reserve Challenge and runnerup Best of Breed in Qld under Judge Chris Mellor(UK)
Challenge Bitch, Best Puppy in Group at Ipswich Kennel Club under Miora Stewart (AUST)
Runner Up Best In Show,Challenge Bitch and Best Junior in Show at ACT BTC under Judge Heidi Holland (NZ)
Challenge bitch and best Junior in Show under Judge Dai Hall (WALES) at Bull Terrier Club of WA.
2014 Semajon Slick Chic ROM
Rosie has been shown lightly and has attained her ROM in three shows what a start for the year
NSW Bull Terrier Club Show Challenge bitch and Best Puppy in Show under Chris Mellor (UK)
reserve challenge under M. Bishop (UK)
Queensland Bull Terrier Show Challenge bitch under Mark Phillips (UK)
What a few months it has been.
Rosie is a Jacamar Dream Time granddaughter.


Pups now available 8 weeks old
Males solid brindles.
.
Brasshead River Queen ROM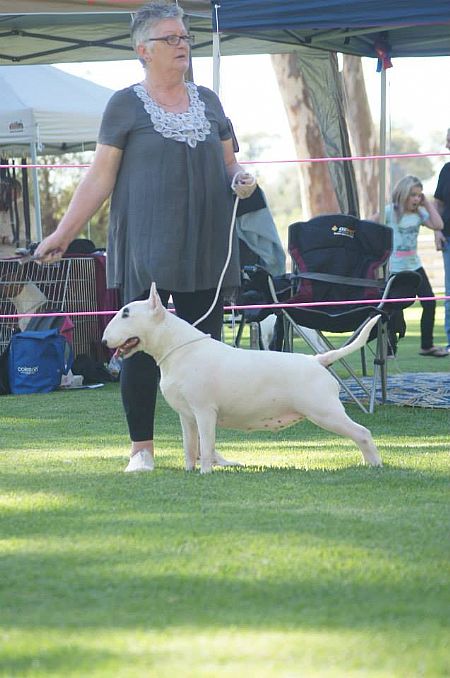 270392 Visitors